Post by Rodak on Feb 23, 2006 5:13:30 GMT -5
I may have modeled my online life after Rodak and The Space Giants (If you don't know by now... do a search for the phrase "Space Giants"), but I have a great love of Rubber Suit Monster Nonsense across the board!
Ultraman is This Guy:
His show was on every day after school, while Space Giants was a Saturday Morning thing. Odd considering Ultraman only had 2 two-part stories, while The Space Giants was all four-part stories!
But nevertheless I still enjoy Ultraman almost as much.
My collection of memorabilia is heavily weighted towards Ultraman simply because Space Giants stopped, while the Ultra Series continue to this day!
At one point Ultraman Stuff was the second largest marketing property in the world (next to Disney).
The sheer rarity of Space Giants stuff, and the vastly fewer number of people who remember it, made collecting Ultra Stuff a natural.
In fact... it took me years of looking to find my first Space Giants Toy!
I still get a thrill if I find one I do not have!
But... in 1990 I was working a lot of Comic book Conventions and decided to get Guest Artists to draw Ultraman for me (I had reference for Ultraman, and none for The Space Giants!). Any artist could do it if they took their fee in trade. I paid the really good ones whose work I wanted, and who would not take their fee in trade.
The thread I started here:
Frank Zappa Drawn By Comic Book Artists!
Inspired this one.
A friend of mine has a scanner, and some of the art is on loose pages which fit on the scan surface (most of the work is either too big or in "The Ultraman Sketchbook").
Here are a few of the images:

Ben Edlund


Ben Edlund is the Lovely and Talented Creator of The Tick!
==========================
Gahan Wilson
Gahan Wilson... Anyone who has read old issues of Playboy Magazine knows the name.
I was at one of those big New York shows (as a guest, not selling) and was in the Artist Room looking at the HUGE crowds, obnoxiously swarming the IMAGE Comics tables pleading for signatures, sketches, handouts, and more.
I don't begrudge their success, in fact it is impressive! But I never liked anything from anyone involved (Except McFarlane's Hulk run... but I felt his style did not work for Spidey!).
While I was being offended by the obnoxia of the crowd, I noticed an old man sitting at a table off to the side staring into space.
Nobody was even looking as they walked by his table!
Such things always grab my attention at conventions.
Those Old Guys don't show up in that corner of "The Artist Alley" without credentials! He was right near Godd McFartstain!
I walked over and saw it was Gahan Wilson!!!
I said "WOW! You're Gahan Wilson"
He responded, "Yes. I am." Rather Succinctly.
So I said "You are a VERY Silly Man."
To which he repeated "Yes. I am." with a much happier tone.
I asked if he was doing drawings that day.
He said that nobody had asked him yet!!!
This is the second day of a 2 day show.
This is Gahan Wilson.
I REPEAT:
This is the second day of a 2 day show.
This is Gahan Wilson.
I know I blurted my "WHAT??" a little too loud.
I told him that he was going to draw me an Ultraman, Right Now.
And if he could include one of his trademark monsters it would really be wonderful.
He said he did not know Ultraman, but when I handed him the Ultraman Action Figure I carry to shows for Art Reference (you must bring an artist some reference in a case like this!) his eyes lit up and he said "I remember Him!"
Great Drawing and Great Story!
==========================
Vincent Locke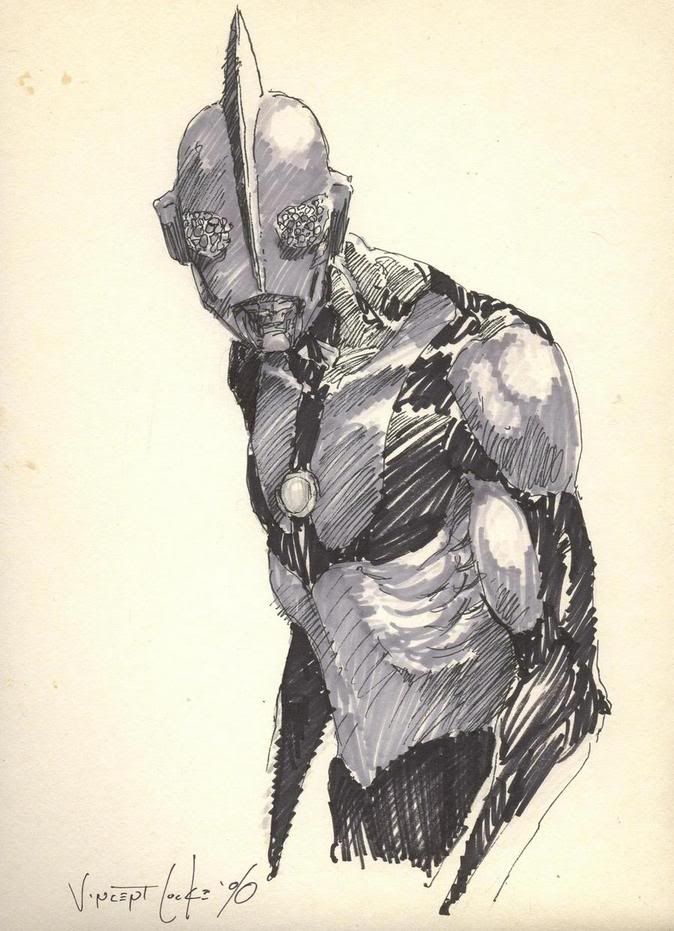 Vincent Locke is the Creator of Deadworld and a really nice guy.
This is from the Albany, NY Fantacon in 1990.
==========================
Mark Bode
This image is pending approval from Doan.
==========================
Peace.