Post by Hedrum on Mar 16, 2006 18:58:24 GMT -5
I know I've posted something similar on Pavilionboards.com, but I thought I might introduce my RPGM1 game to those who haven't heard of it yet. Besides, there is more information on the game here than there at this point.
Anyway, the title of this game is called Monkey Brothers.
Table of contents
I. Story
II. Main characters
III. Monkey Island
IV. The Monkeys' Abilities
V. Items and Power-ups
VI. Rare items
VII. Monkeys in battle
VIII. Gamer Tips
I. Story
It all started when a rich and greedy man by the name of Mr. Doom became sick of the same old gourmet foods that he ate. He wanted something new. Something that he had never tried before; monkey brains. So, he ordered his loyal assistant, Dr. Knom, to fetch him some delicious monkey brains!
That very night, Dr. Knom gathered around Mr. Doom's army of hunters. Dr. Knom plotted out a plan. They were coming to Monkey Island. There were 4 targets: Crystal Lake, Chrable Mine, Forbidden Temple, and the Monkey Village. Dr. Knom knew he couldn't patrol all of the hunters at once, so he decided to make groups of hunters and gave them patrol leaders. It'd then make the job a cake!
The hunters attacked! Barbarians they were, coming in and rounding up the monkeys one by one being confident that they would not disappoint their master by gathering the monkeys' brains. It was not till long that Brian, a former citizen of the Crystal Lake town, escaped from the cruel hunters after he had heard the ruckus. He came to the Monkey Village where he'd be safe.
After that very night, he rested at the Mayor's house. The Mayor was very lazy and did nothing when Brian had told him about the threat of hunters. So, immediately, Brian began to create flyers trying to gather up a war party.
A day or so later, Brian was in luck! Three bumbling brothers came: Malcolm, Mitch, and Matt! Brian tells them everything they need to know before they start their quest...
Now the quest is up to the three brothers! They must now avoid various booby traps, encounter nasty foes, explore challenging dungeons, and complete lots of crazy tasks to put an end to Mr. Doom once and for all!
II. Main CharactersMalcolm
Malcolm is mischievous and very immature. He's well-known for the many pranks he has pulled. Ranging from leaving anonymous rude remarks on Mr. Grumps porch, to making strange comments when he is drunk. Malcolm is the unpleasant one of the trio. Despite the fact that he's a prankster, he's also known as one dare devil. He's afraid of nothing.
Mitch
Mitch has a big reputation of being a big coward among his fellow neighbors. Mainly because he's afraid of just about everything. Mitch's phobias include: water, dark places, and even Malcolm's ex-girlfriend! So, he's just a big wimp. But, because of his incredible strength that he possesses, he plays a huge part in this epic adventure.
Matt
Small, young, and puny. But does this mean he isn't smart? Uh, no. Matt is actually one of the more intelligent monkeys. If not, the most intelligent monkey. He may be physically incapable of defeating common foes, but he's one smart kid and can help the party by using his brain.
Brian
If it weren't for him, the monkeys may have not even been on this adventure in the first place! Brian was one of many monkeys of Crystal Lake that had escaped from the twisted and sinister army of Mr. Doom's. He had come to the Monkey Village where he would be safe. The mayor of the town did not do anything after the gathering of the monkeys had happened. So, Brian made a stand and took action into his own hands by posting flyers all around the village to gather up a war party. In this quest, he's a guide for the three brothers and sends messages to the party to make sure they are on track.
Mr. Doom
Greedy, rich, and very impatient. These are the very words to describe him. Mr. Doom one day wanted something new to eat, since he was sick of the same gourmet meals, so he decided he wanted monkey brains. However, it's been two days since the gathering of the monkeys. Once he finds out that the monkey brothers were causing this problem, ooh, there will be a terrible consequence for sure!
Dr. Knom
Basically put; Mr. Doom's pet. He practically does everything for Doom: he feeds him, he bathes him, and probably even breathes for him! Not only is he Doom's most handy butler, he's also the secret to Doom's success. He's a mastermind and can blow anyone's mind with his inventions. Watch out monkeys! The forecast looks cloudy!
Patrol Leader Hunters (PLHs)
Patrol Leader Hunters or PLHs (for short), are the ones who patrol the hunters. Each PLH has an assigned area in which they raid. There are about 4 total. Each individual PLH has a distinct personality: John, is quite loving (namely cat loving); James, is often angry; Jeremy, is a psychopath; and then there's Jacob, the one who will most likely die before he can even speak properly.
III. Monkey Island
Welcome to Monkey Island! The land in which the adventure takes place. Monkey Island is filled with many areas to explore. Here are a few descriptions of areas that you might come across in this adventure:
Monkey Village
Ah, the village of monkeys. The village has a great community. The village is filled with many nice monkeys: there's your shop keeper who sells goodies, there's the Mayor who does absolutely nothing at all, and then you've got your knuckle-headed residents. This is basically the main village of Monkey Island and the village of which the three brothers' house lies.
Animal Tropic
The jungle that's big, vast, and is full of surprises! This is what the island is mostly made up of, the Animal Tropic. The place is made up of many non-linear paths. So, you can run around freely. However, many of the travelers say that a lot of foes roam the jungle. Be careful when traveling.
Forbidden Temple
As it says by its name, it's a forbidden temple. It's not like the place is abandoned or anything. In fact, if there were no monkeys in this region, why would a group of hunters enter this region in the first place? Many of the temple's monkeys choose to be here to be separated from the outside world. These monkeys are religious individuals that believe at one time Monkey Island was created by a divine being. They also say that the outsiders are "impure" because of their faith in the "Creator". The Forbidden Temple is located on the top of a huge cliff. To make matters worse, the place is full of booby traps!
Chrable Mine
The old Chrable Mine is the place where the miners keep digin' those rare, valuable, chrables out! The miners of the tunnels would usually play odd games during their break from work such as a roulette game for chrables (luckily they never got caught!). The mine itself is big, is full of treacherous cart tracks, and is probably not a good place for Mitch to lurk! Now, since the hunters had come, the mine has been cold and dark. The old mining spirit needs to be restored.
Crystal Lake
Big, deep, and shimmering with the color blue. Crystal Lake is one heck of a paradise that Monkey Island has to offer. Some would say this place is "water heaven". That may be the reason why monkeys had dwelt here. Of course, ever since the hunters had come, the place has become a crap pot for the enemies to put their rears in. It's up to the monkey brothers to put an end to this conspiracy that the hunters are causing by searching for arcane areas in the depths of this lake.
IV. The Monkeys' Abilities
Each monkey has their own unique abilities. Abilities can be acquired from items or from having them taught. Some abilities are necessary to proceed through specific points in the game. To switch in between monkeys during the game, proceed to party changing point and select a character by using the left and right arrows on the D-pad. Here are a few examples of what kind of abilities each monkey can learn:
Malcolm
Compared to the other monkeys, he is the one with the more odd abilities. This means that not all of his abilities can relate with one another. Malcolm is the only monkey that is known in his hometown to swim. When he progresses in his quest, he can receive the ability to breathe underwater. Also, he can obtain objects that will help him evade better in battle. Whenever an enemy misses its target, Malcolm will eventually be able to laugh his head off a bit more frequently.
Mitch
Are there any detestable creatures ruining your day? If so, no problem. Mitch has the capability of handling foes like these. With a couple of blows from his fists, he can knock them dead cold. Nevertheless, only distinct items that he can possess will he give him such power. In addition, he can make a heap of foliage out of one bush. The same principal applies to rocks as well.
Matt
He's not the most powerful of the group, but he can sure help the group. With his tiny little body and his wits, he should be used quite often. Once certain efforts are completed, Matt can gain access to different abilities like Keen Eyes or Sense. With him learning these abilities, solving puzzles in the game will be a lot more simple.
V. Items and Power-ups
Each item and power-up is very useful in one way or another. They can either be boughten from shops or they can be found in various places. Here are a few examples:
Coconuts
Basically the currency. You can use coconuts for buying items in shops. So the more coconuts you collect, the better!
Extra Guys
These items are very useful and are essential for survival. These monkey figurines kick in whenever you get hurt. They restore your strength. Without these guys in your bag, you have a great risk of dying.
Magic Lamps
What happens after you rub this lamp? Why your wishes come true of course! In whatever way, these magic lamps can only be used when you're near a portal and can only be used for one purpose. When you use a magic lamp, you'll automatically be teleported to the place you started from; your house.
Keys
These are necessary to unlock certain doors. Nonetheless, not any type of key can unlock any door. Keep this in mind.
Invincibility Power-up
When invincible, you can run around without a care in the world! You are immune to damages. Also, when invincible, you are able to defeat enemies with a touch of a button! Be aware, this is only temporary.
Beer
Malcolm's favorite beverage! Be warned, beer can be dangerous (especially for Matt). Beer can make you drunk. Which can put a negative impact on you. Also, keep in mind, the effect of the beer can be transferred when switching to another character.
VI. Rare Items
These items are very valuable. It is said in legend that if one were to gather these items, the one would have the ability to fly into the heavens, break the curse of the Creator, and experience a place like no other.
Special Keys
4 crystal keys can be gained in total. Each key has been broken down into 5 pieces and scattered throughout every region of Monkey Island. It's your job to seek these objects out. With obtaining these fine rare objects, the door of heaven awaits for your arrival.
Chrables
Gem-like items. Usually possessed by the noble. Gained by doing good for the race of monkeys. Completing mini-games and chores for other monkeys, you'll most likely have the authority to lay your hands on one of these babies. The more you have, the closer you are to true paradise.
VII. Monkeys in battle
Battles take place on field. Therefore, you are able to run around and are able to attack common foes with a touch of a button. A battle runs on probability however, and there is a possibility of getting hurt which can result in a lost life if you're not too careful. Gaining items may be rewarded when an enemy is defeated. Since Matt is small and weak, you will have to play as Malcolm or Mitch to battle these foul fiends. Malcolm is more evasive. Mitch has more strength. For easier battles, it is best to search for items to help benefit the monkeys' abilities. Examples of common foes are listed below:
Hunters
Hunters are very weak and can be damaged even by playing as Matt! Nevertheless, their strength doesn't rely on their physical attributes. Their strength is their mind. Every hunter may or may not have a different strategy to hurt the poor monkeys. Be very cautious!
Birds
Annoying little pests. They wander in the forest searching for various type of berries. Do not think that these are peaceful creatures, oh no. Very little defense they have, yes, but, these things can attack. And when they do, a beak to the eye is not always a pleasant sight. Birds are also known for fleeing. They're quite the cowards.
Leopards
Big cats that roam in parts of Monkey Island. Surprisingly, the hunters have domesticated these beasts in the past few days but only to obey them which means the monkeys are left in danger. These cats are strong and quick. Leopards put up good fights. So be prepared.
Black Panthers
Simply put, big black cats. These big cats lurk in mostly dangerous areas. Panthers are very powerful and very aggressive. When confronting these animals, it's best to use monkeys that have the durability to withstand their attacks. Otherwise, they are best to be avoided.
Mermaids
Usually found in water, some of the hunters who have spotted mermaids consider them as "beautiful". Harmless they may appear, but looks can be deceiving. Mermaids are much more wicked than they seem.
Ghosts
If Mitch were to ever here about them, he'd be scared out of his mind! Ghosts are very rare and they usually lurk in dark places. These guys aren't very friendly and will attack you if they have the chance. They cannot be affected by the monkeys' attacks. Avoid them as much as possible.
Goblin Monkeys
Little annoying creatures that loiter around on Monkey Island. They are monkeys that have come from who knows where to disturb the travelers of the island with their vile presence. They mostly come in two separate color schemes: red and purple. Much little is known about these creatures, but since they are so sickening, it's best pummel these things.
VIII. Gamer Tips
In the game of Monkey Brothers you, the player, will overcome various obstacles in this game. In some cases, you might be stuck. Here are some tips that may come in handy when playing the game:
- Prepare for any danger you face. Whenever you enter a dungeon, it's a good idea if you have some Extra Guys and Magic Lamps on hand because you never know when you'll need to use them.
- Change in between monkeys whenever you can't overcome an obstacle with a particular monkey. Each monkey has different skills; use the one that you think can get past a specific challenge.
- Matt is not just another character in the game, but he is as well useful to your advantage. Remember that Matt can fit through tight spaces and can see invisible objects if he has the ability. Matt can reach hidden spots where special items can be found.
- Use Malcolm when near wet areas in most instances. Malcolm is the only monkey brother that can swim; do not forget that. If you played as Mitch, he'll not dare to swim in the water. If you played as Matt however, you'll lose an Extra Guy and possibly your life if you don't have any Extra Guys left.
- Avoid dark areas when playing as Mitch. Whenever Mitch comes across a dark room, he'll most likely chicken out and flee from the act. Which many issues involved with restarting certain pathways may come of a result of the situation.
- Talk to other monkeys. If you can't ever seem to progress in the game or can't find any necessary object to complete the game 100%, you never know what that particular monkey has to offer. Also, the monkey brothers may respond to NPCs with a remark, so perhaps you should try using the all of the monkey brothers, confront any peculiar NPC individually, and observe the results in case you can't seem to progress through the game.
- Examine objects. Even if you never seem to get a response from a monkey brother every time you check an object, keep at it; there's no telling when something surprising might happen.
- Buy stuff at Dan's gosh darn it! No this isn't an advertisement, but a good suggestion. Dan sells some good stuff that you might not find anywhere else. Some examples include items that can be useful when battling foes for Mitch and Malcolm. If you're going to buy stuff there, however, make sure you bring an abundant amount of coconuts.
- Last, but certainly the most important suggestion, explore! This game is an adventure game filled with secrets and surprises! Every niche, cranny, you name it! Explore everywhere and at different times too (even in previous areas that you have come across in your trek). Remember, one of the keys to beating the game is to explore!
-----------------------------------------------------
Mugshots!
These are just some screenshots of the game taken by a digital camera. So, that's why they're low quality. I'm sorry that I couldn't get any better ones, but I tried to do the best I could with the resources I have. Now be grateful that I'm even presenting these images!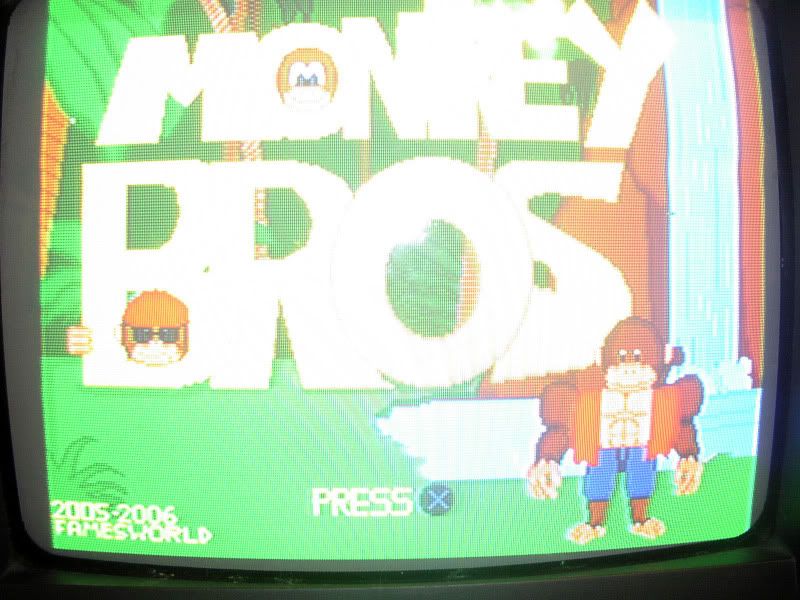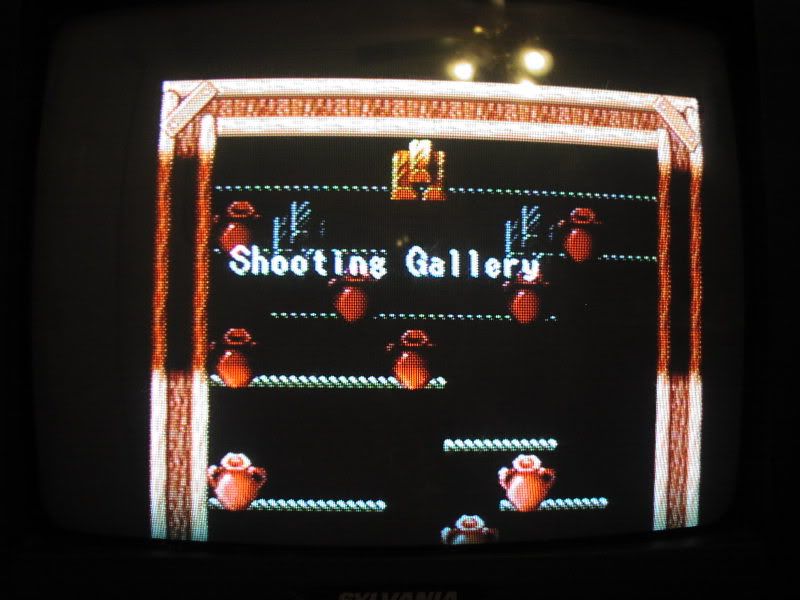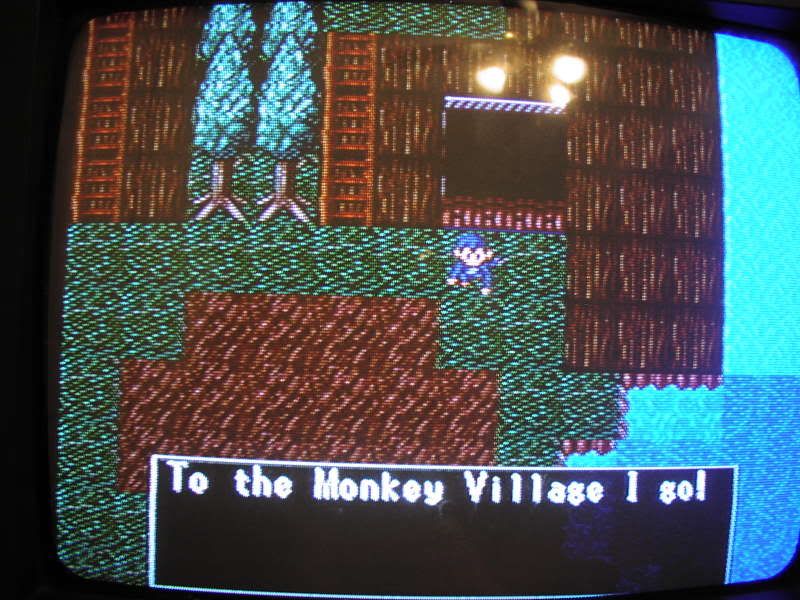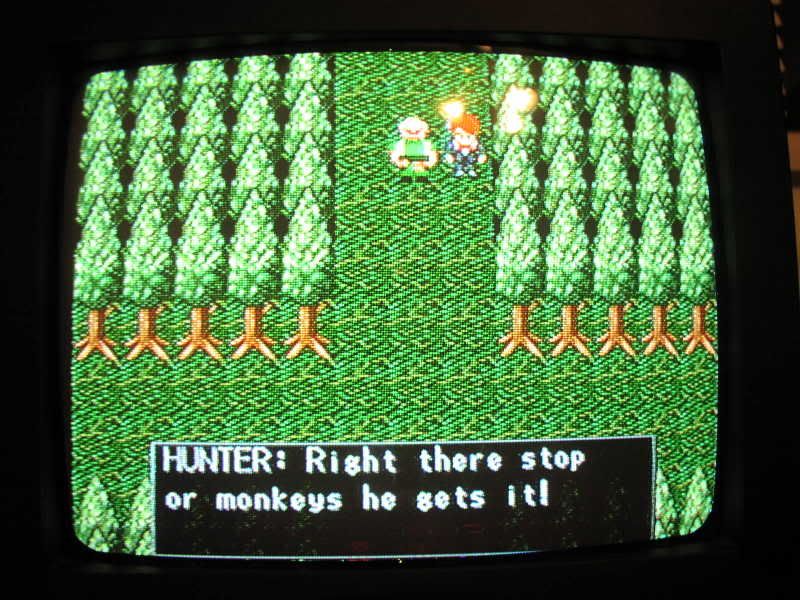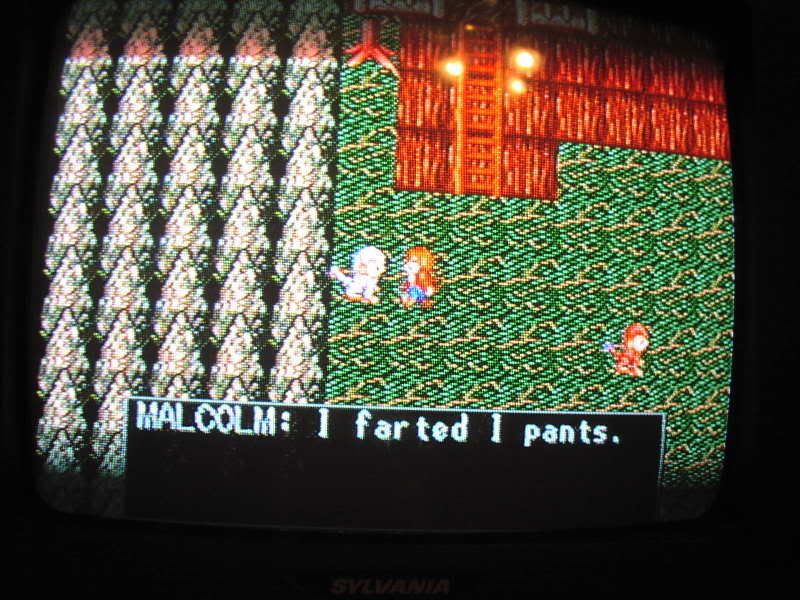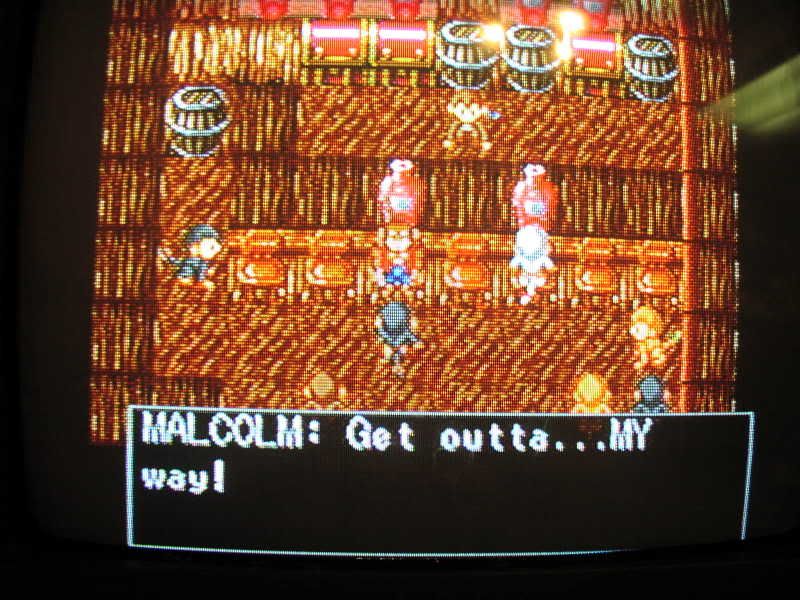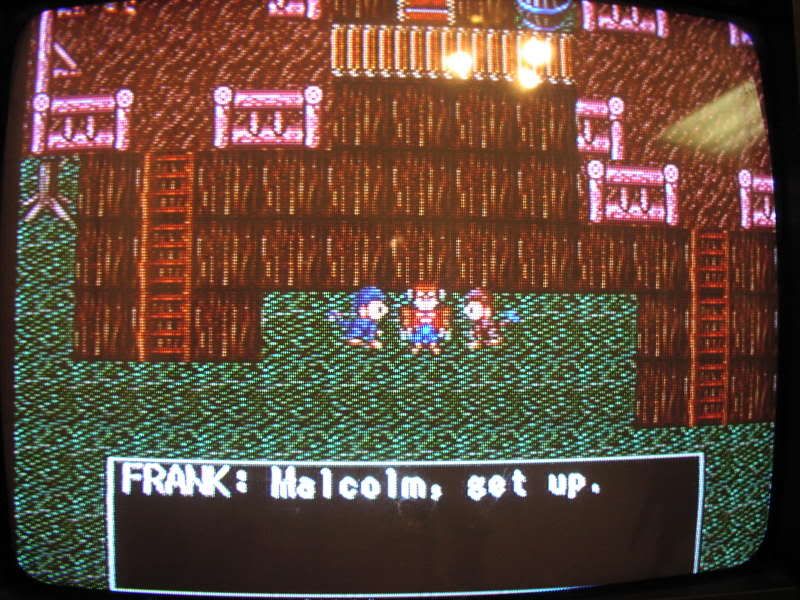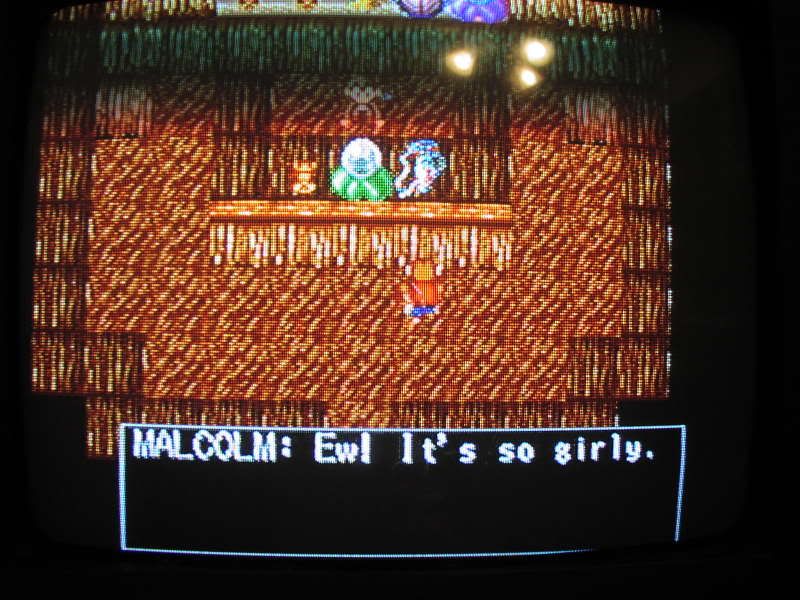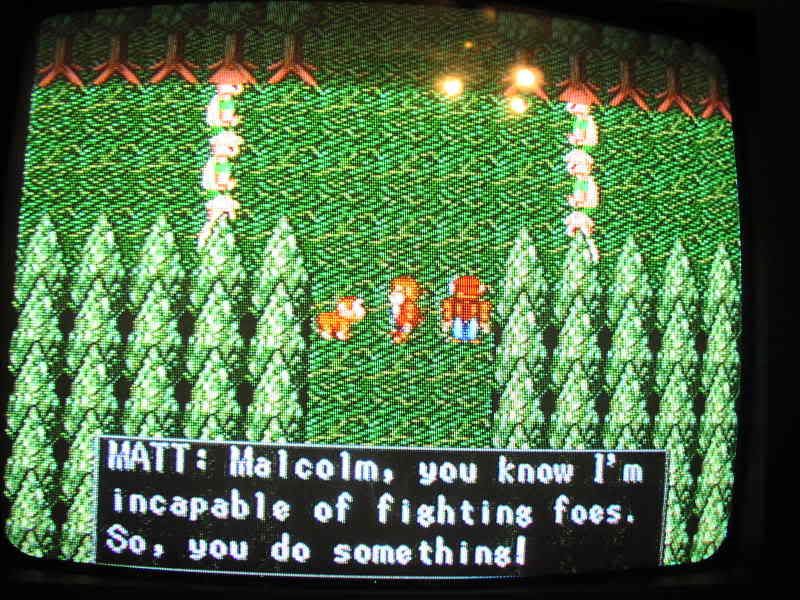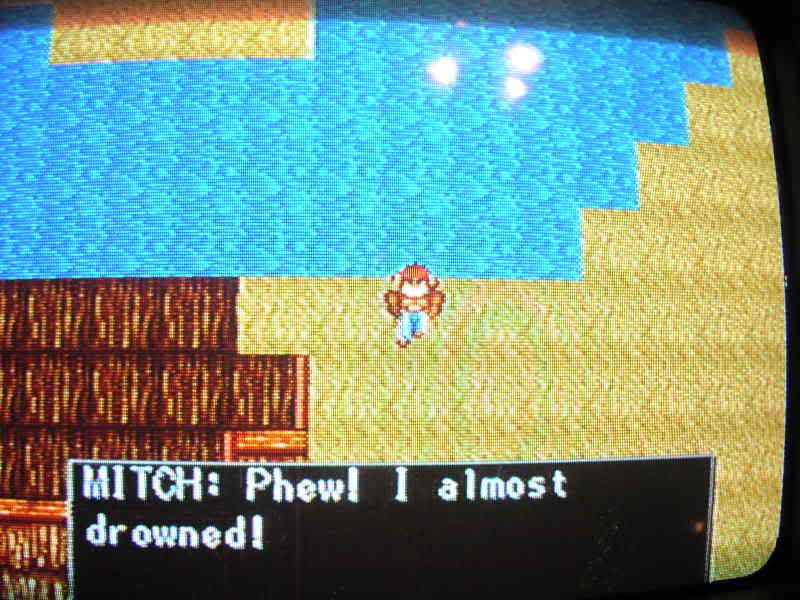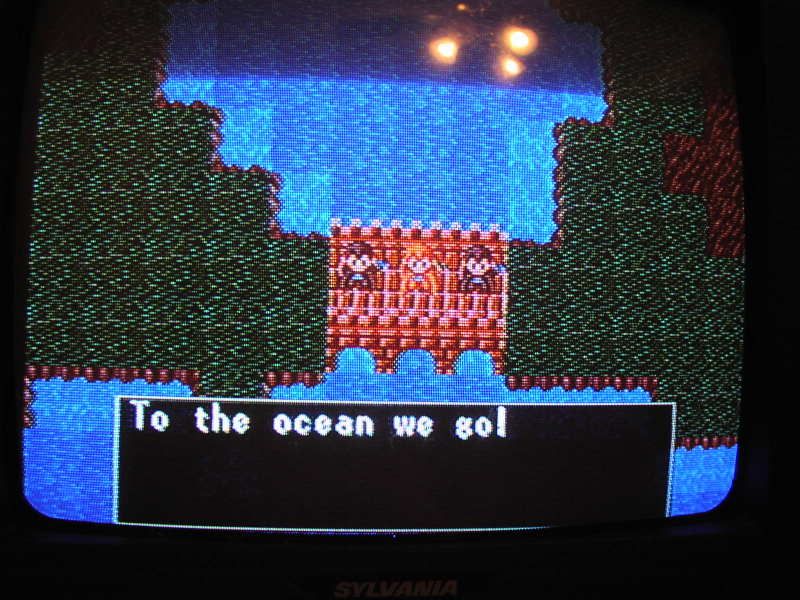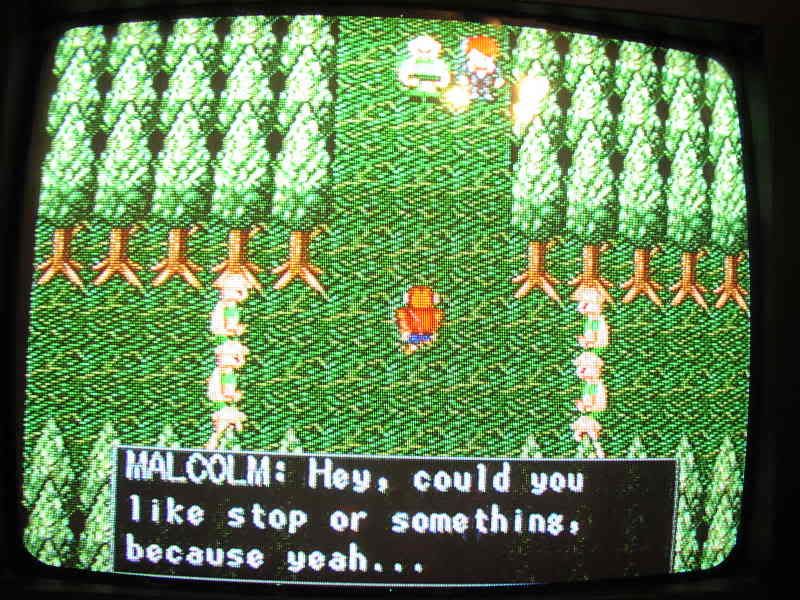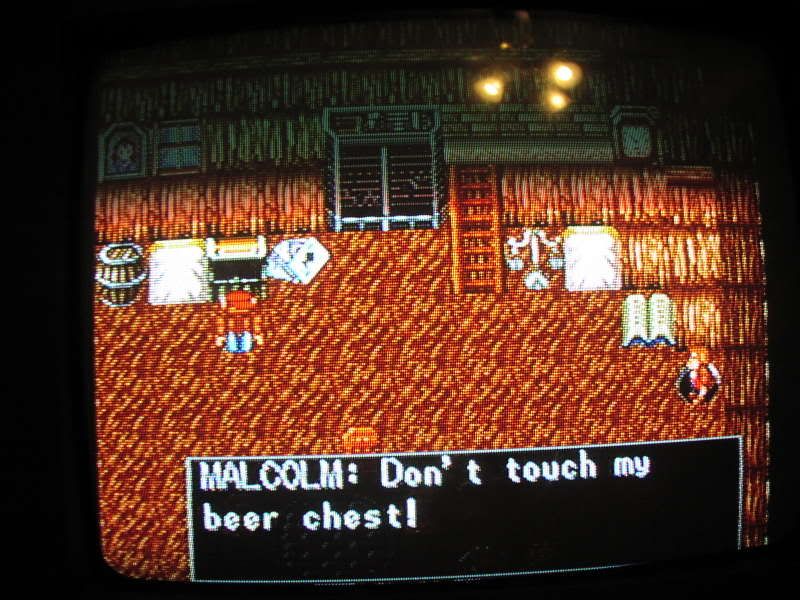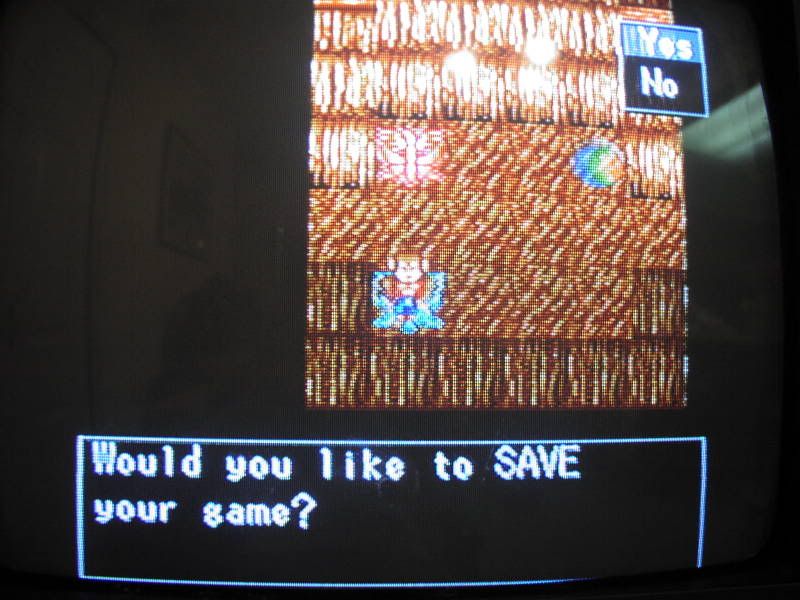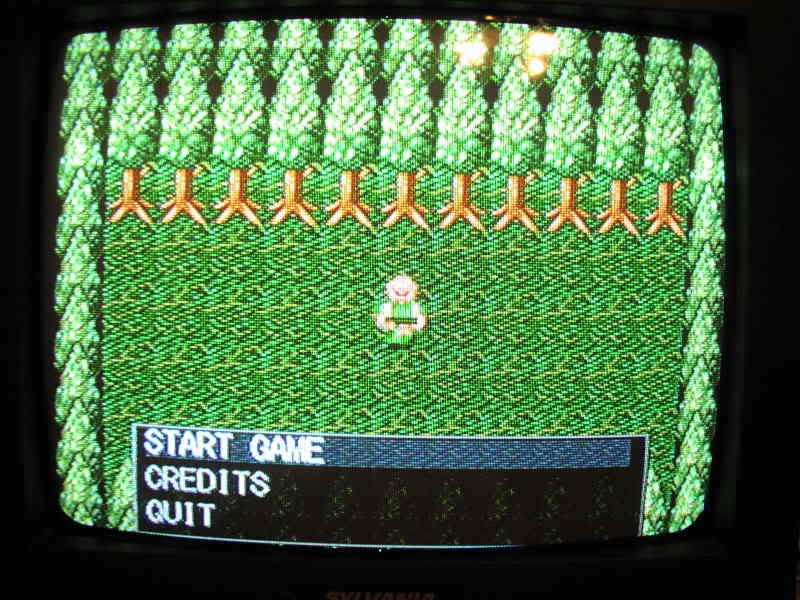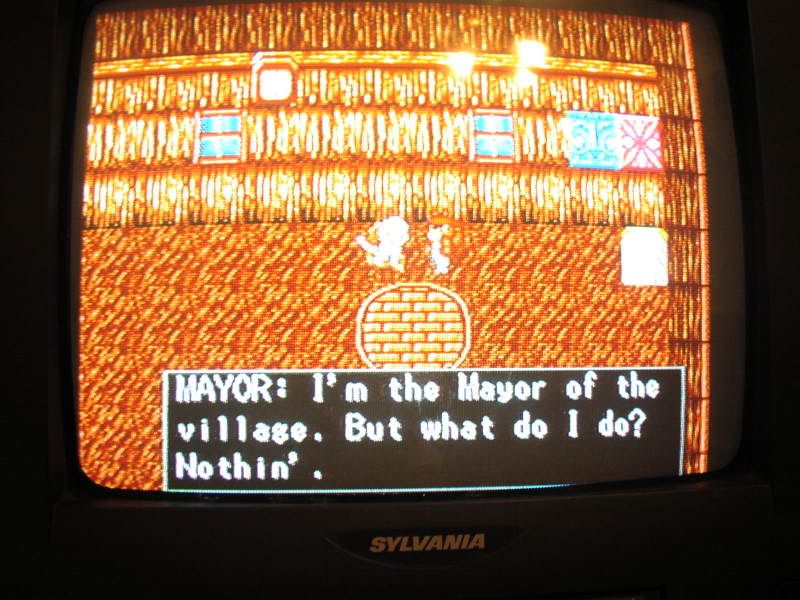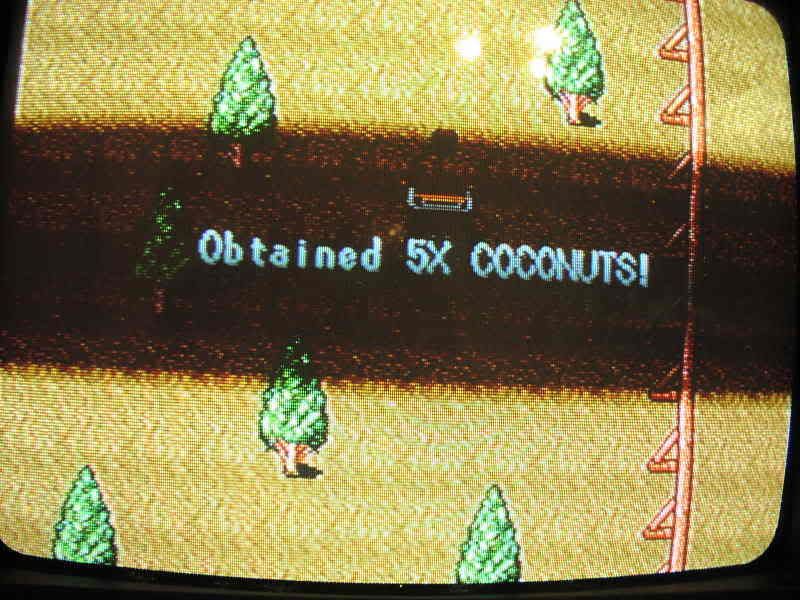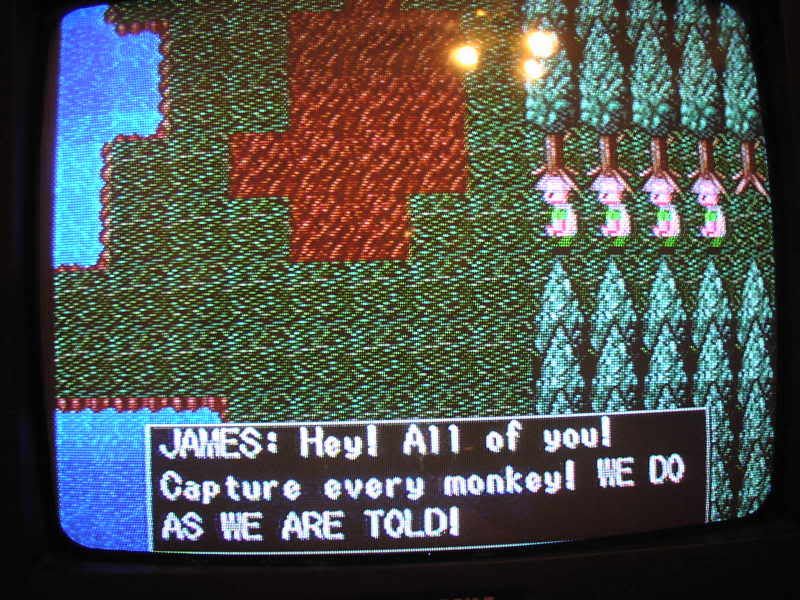 And that's all for that huge screenshot gallery!
----------------------------------------------------
All of this can be experienced on the demo you can find by either clicking here:
www.pavilionboards.com/forum/showthread.php?t=4485
; or in this list of games here:
www.rpgmmag.com/rpgm/listings_J-R.php
. The only requirement in order to play this demo is that you must own RPG Maker 1 and you must have a Dexdrive or something that can enable you to play this demo.
Any questions or comments concerning Monkey Brothers may be posted here.