Post by Bigfoot on Feb 15, 2006 15:07:22 GMT -5
Its been a little over a year since I have started Josaigdan and the Arcane, and I have been pretty quiet about it for awhile, soon that will change. A few months back, I had a good amount of work done, a CBS, the works. But then I realized it wasn't good enough, that I could do something really amazing with this idea. So I pretty much scrapped all the cinematics and the CBS then. The original was definitly something special. But it definitly is now alot more like I wish it could be. I am proud to say that it will be the game I have always wanted to make.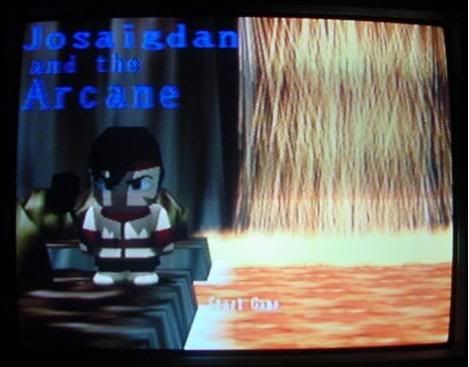 (The title screen is still there.)
Story
It's so hard to summarize this story in a nutshell so I will do my best.
Its about a Slave named Josaigdan, unlike most slaves, he has a memory of seeing the sky. During a scene of tragic events, he loses control and kills many gaurds, and with the help of something, he somehow escapes. But he escapes to an unfound ruin where an Arcane resides, a female with angelic wings only known in myths. He frees her and decides upon helping her escape.
This story is more about the interactions between characters than anything else, and note that I am keeping much of this story underwraps, and there are many characters I have yet to reveal.
It now has a smooth running ACBS that functions with a combo system. Cinematography and VFX will speak for themselves when I release a trailer. CMS, Jumping system, and a CCS.
Some cinematics will change too depending on the player, it will have split second context sensitive moments, like in Resident Evil 4, and Shenmue 2. That promises that you will even play the game when your watching it. These cinematics will be very fun to play out.
The old Cinematics are not gone, I actually plan to have it as an unlocked special for poeple that want to see how it used to be. I think it will be a nice secret for players. Maybe after the player beats the game.
I have most of the gameplay done, so once I figure out a few more things, progress will come much faster.